Since 1991, we have been putting our expertise and know-how at your disposal to organise national and international conventions. Our experienced and multidisciplinary team mobilises all its skills with care and consideration, and lots of inspiration.
Last updated date : 04/05/2023
Hopscotch Congrès 81 boulevard de Stalingrad Park Avenue - 69100 Villeurbanne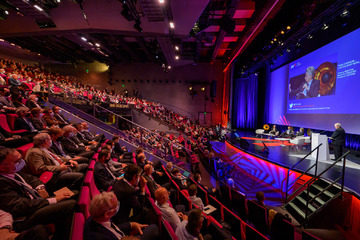 A team of event management professionals skilled in the health sector since 1994, and perfectly versed and proficient in dealing with all your regulatory constraints. A partner capable of providing you with effective, long-term support in all your business relationships.

HOPSCOTCH CONGRÈS is an agency specialised in organising business meetings and conventions. We mainly work in the health sector for the scientific community, institutions and professional associations. We are actively involved in 2 strategic sectors: Professional Congress Organisation (PCO) and Health Care Events.

As a PCO and Association Management Company, we help our customers organise their conventions, manage their associations and select service providers for the organisation of international congresses.

As health industry partners, we provide solutions when it comes to organising seminars, symposia and events, and in the regulatory management of business relationships.

Our mission: to provide advice, business expertise and a stringent process towards designing your community's key event!
Hopscotch Congrès
81 boulevard de Stalingrad Park Avenue - 69100 Villeurbanne